Todays topic is Christmas gifts. This topic is a little daunting. I have only just started to think about gifts and really don't have much on my list yet.
I like to get something practical and something fun for JJ. A few years ago I gave him a chainsaw. This one was a winner because it was both practical and fun. He has been asking for a chainsaw since he was 2 years old. Yes, you read that right... he was 2 years old when he started asking for a chainsaw. I think this freaked his parents out (as it would any parent) and they never got it for him. On his first Christmas as a father, I figured he deserved a chainsaw. He has gotten good use out of it.
This year I am going to get him an edger. He loves his power to
ols and the one we have needs to go. He has the hardest time starting it and once it starts it usually conks out. The fun gift... i have absolutely no idea.
He is a typical 2, almost 3 year old boy, and has a lot of energy. We have a lot of thunderstorms in Florida so he can't always play outside. I think this will be a good way for him to have fun and get some energy out without wrecking the house. He got a tool set last year and loved it so much. I would love to get him this nice wooden tool set & work bench. I like to buy toys that will last and that we can keep around for the (future) grandkids.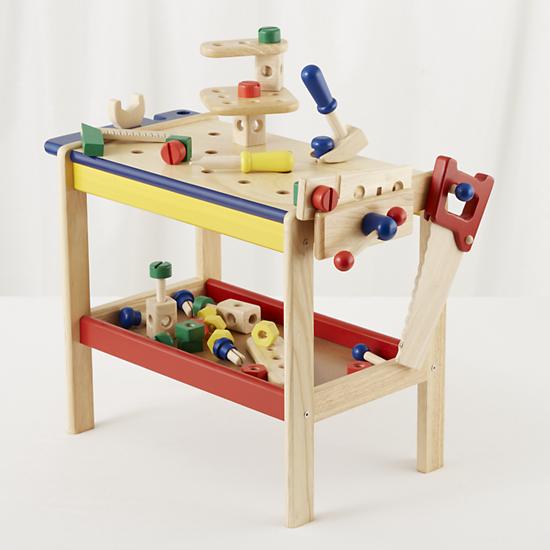 A is a little tougher. This will be her first REAL Christmas. She was 2 months old last year and just sat there. This year she can move and will have a small idea of what is going on and actually be able to play with her presents. I like to buy presents that she can grow in so most of her presents will be more for her when she is 2 than at Christmas when she is newly 1.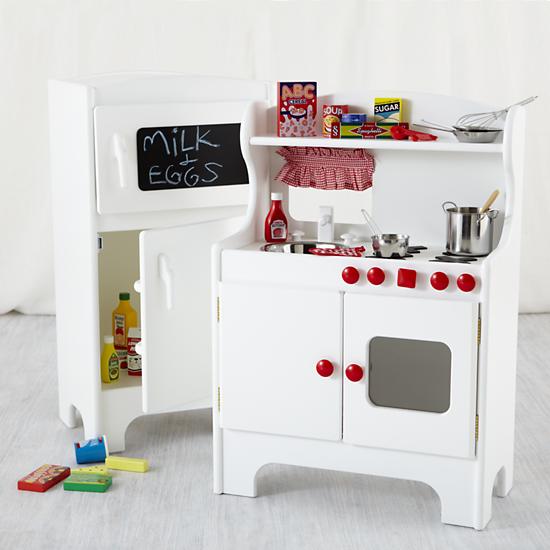 I think that a little Kitchen set is a must! I want her to be able to use her imagination and H loves to play pretend as well.
Maybe we will get her a little doll and stroller set so that she can build her caregiver side. I think that is something that every little girl needs.
As for my mother & sister, we have started an unspoken trend of making things. So... now that someone has gotten me stressed out about Christmas, I will be scouring Pinterest on stuff to make.
My Favorite Christmas Present: I don't have any pictures of the present (my mom has them). When I was 10 years old I became very big into Samantha the Original American Girl doll. My heart broke when I figured out that she is discontinued.
Anyway, that Christmas I got the Samantha doll as well a stand and numerous outfits. I was in heaven! I didn't think that it could get any better. The last present I opened was from my Aunt Laurel. Aunt Laurel has yet to get married and doesn't have any kids, so my sister and I got to spend a lot of time with her. I absolutely adore my Aunt Laurel with all my heart. So, since Aunt Laurel didn't have any daughters, she gave me a doll from her childhood that she had saved for her future children. The doll was/is in excellent condition and even came with a change of clothes. Even at 10 years old, I knew how much that doll meant to her and what it meant that she wanted me to have it.
I get tears in my eyes now just thinking about the love I felt that day knowing that Aunt Laurel thought of me as a daughter and entrusted me with something so precious from her childhood.
That doll sat on display in my room until I left for college. I have both the Samantha doll and Aunt Laurels doll safely preserved and in storage for A when she gets older. I can't wait to gift her with 2 dolls that have such special meaning to me and my family.
JJ thinks that dolls are incredibly creepy and has said numerous times that A will not have dolls. I just laugh. The poor guy is going to freak out when I have him build shelves to display dolls in A's room :)
What was the most meaningful Christmas present you have ever given or received? Also, any ideas on present to make for my sister?
KK